As healthcare evolves, those with a Doctor of Nursing Practice (DNP) degree will have more opportunities to work as independent healthcare providers and in leadership roles. DNP-qualified nurses set the standard in healthcare and play an active role in shaping the future of healthcare in the US at the policy, organizational, site and patient care levels. They possess the clinical skills and knowledge required to manage and implement changes that improve care giving and patient outcomes.
In the last decade, nursing practice has evolved dramatically. Nurses must now take on a broader scope of practice that includes serving as educators, researchers and organizational leaders. This could be as an adult gerontology acute care nurse practitioner or a healthcare executive. This article will cover the skills and career options available to nursing professionals with a doctorate in nursing. We hope that this takes the guesswork out of studying for your DNP, allowing you to pursue a successful career as an advanced practice nurse in a clinical or administrative role.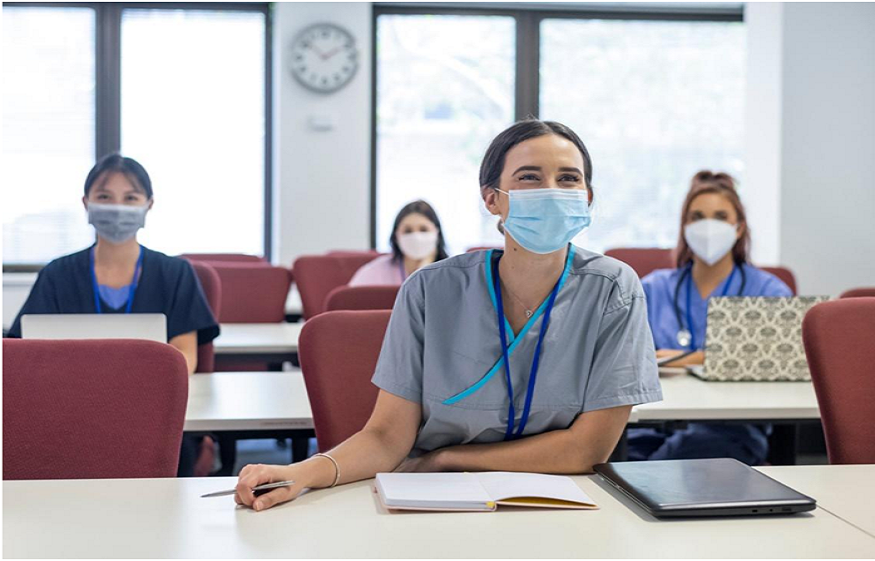 Career directions
All DNP programs include a core curriculum and opportunities to pursue your interests through specialized coursework. You'll learn to evaluate evidence-based research as part of the core to improve patient outcomes. Many DNP nurses continue to advance their careers as advanced practice registered nurses (APRNs). Others transition from direct care to non-clinical roles. Here are some positions you could land with a DNP under your belt.
Healthcare executive 
Hospitals, private practices and long-term care facilities must run like well-oiled machines to be successful, which is why they require strong leaders who can keep their systems running smoothly and efficiently. Healthcare executives, also known as medical and health services managers, are knowledgeable individuals strategizing, coordinating and directing healthcare services. This position is ideal for DNP graduates who want to be directly involved in the day-to-day operations of their medical facilities. According to the US Bureau of Labor Statistics, the healthcare management field is expected to grow 32% between now and 2029, which is much faster than the average for all occupations.
According to data, 33% of these executives worked in hospitals, while 22% worked in long-term care or private offices. The primary responsibilities include enhancing the quality of healthcare services provided, developing departmental goals, and ensuring facility compliance with laws and regulations. They may also be responsible for communicating with team members, developing or monitoring budgets, and representing their facilities at investor meetings. Individuals pursuing nursing careers as healthcare executives keep facilities on track while remaining adaptable to technological changes, healthcare standards, best practices and personnel.
Program director
Program directors are in charge of an organization's day-to-day operations. A DNP allows you to work as a program director in public health, healthcare research, or another related initiative. Setting goals, managing a budget, hiring and training staff, developing project timelines, and monitoring activities for compliance are among their responsibilities.
Educational leadership
A specialty in educational leadership allows you to combine your interest in teaching with your nursing skills. With this specialty, you will learn how to educate nurse practitioners and other nursing professionals. Some nurses specialize in educational leadership work in academic institutions, while others teach in hospitals. This specialty is packed with classes that will teach you everything you need to know to be a successful teacher, such as curriculum development, ethics, adult learning theory and communication.
Certified Registered Nurse Anesthetist
The Certified Registered Nurse Anesthetist (CRNA) is one of the more lucrative career options for APRNs with a doctoral degree. CRNAs are nearly all rural hospitals' sole anesthesia providers, administering anesthesia to patients for surgical and other medical procedures. The most common doctoral degree for CRNAs is the DNP, or Doctor of Nurse Anesthesia Practice (DNAP). According to the Council on Accreditation of Nurse Anesthesia Educational Programs, which accredits nurse anesthesia programs in the US and Puerto Rico, all new CRNAs will be required to have doctoral degrees by 2025.
Advanced practice nurse
Consider using your DNP to pursue an advanced practice nurse career if you prefer the patient care aspect of the nursing field. Medical facilities frequently require nurses who have received the specialized training and skills found in a doctoral nursing program, such as developed core competencies in nursing science and knowledge of ethical issues in healthcare research. With a DNP, you can pursue a variety of nurse practitioner specializations, such as family nurse practitioner, neonatal nurse or psychiatric mental health nurse. Furthermore, in some states, advanced practice nurses can run clinics independently.
Certified Nurse-Midwife 
Are you looking for a DNP position that allows you to care for women? Are you particularly interested in issues concerning women's health, such as reproductive health and childbirth? If this is the case, you might be interested in becoming a Certified Nurse-Midwife (CNM). CNMs are licensed healthcare providers specializing in birth and women's reproductive health issues. A position as a CNM is one of the job options available to nurses with a DNP and midwifery specialty credentials. CNMs provide annual wellness exams to women as well as counseling on women's health, reproductive health and childbirth. They also order and interpret lab tests and other women's health tests, write prescriptions, and provide follow-up care.
To conclude
A DNP's leadership, analytical and organizational skills translate well into today's competitive job market. Many businesses and government agencies are actively seeking DNPs to fill medical-related positions. As a result, DNP positions are becoming more plentiful in fields ranging from education to business, health policy and telemedicine. Pursuing online study to complete a DNP is especially useful due to its flexibility, allowing you to fit study around other work and home life commitments.