An engineering manager leads the research, design and construction teams of engineers, scientists, technicians and other support workers on every skyscraper, software product and solar power grid. Their daily work frequently requires a thorough understanding of various engineering skills, technical disciplines, business administration and management strategies. Engineering managers must stay up to date on the latest processes and technologies that allow their teams to complete engineering projects efficiently and successfully. They must also have strong technical skills to review their team's work for accuracy and quality assurance, make recommendations, and assess the need for any trade-offs.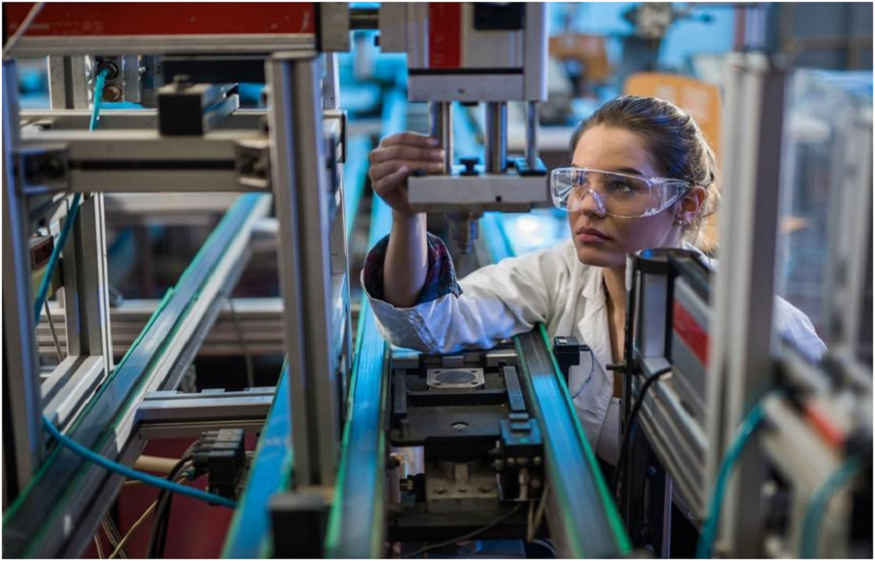 Engineering managers must have business skills to manage projects, finances and risk. In addition, engineers can expect to work on multiple projects simultaneously, balancing tasks such as allocating and budgeting resources, coordinating communication across multiple departments, planning and implementing a supply
Engineering management is a natural next step for many professional engineers, regardless of specialization. Management positions in the engineering sector provide numerous benefits to individuals, including influencing change and innovation, multiplying your impact, and becoming multi-skilled in both management and technology. In addition, businesses have never had a more critical time to have technically competent managers, so filling this skills gap benefits the entire industry. However, moving up the career ladder and into management positions can be intimidating, regardless of the industry you want to work in. As a result, knowing which path to take and what will work best for you in your engineering field will put you in a great position when looking to advance into management.
Engineering management degrees are designed to prepare the next generation of engineering managers by combining business and management knowledge with technical knowledge. Engineering is a broad discipline that involves the design, construction, maintenance and improvement of structures, machines, devices, systems and materials using scientific, economic, social and practical considerations. The most common divisions are civil and structural engineering, chemical engineering, electrical engineering and mechanical engineering, with many sub-specializations within each field. Management applies social, economic, theoretical and practical factors to the coordination, planning, organizing, staffing and leading of all aspects of an organization through the strategic direction of human, financial, technological and natural resources.
Engineering management is a subset of management that focuses on the engineering industry. A growing number of specialized engineering management degrees are available to help develop the knowledge and skills required for these roles, reflecting industry demand for management-focused engineers. During an engineering management course, students will learn industrial engineering skills, knowledge and expertise, as well as business and management techniques, strategies and concerns.
Engineering management degrees
If you want to advance your career in the field of engineering, a management degree will teach you how to effectively communicate with your employees, colleagues and clients, while honing your existing technical skills and expertise.
Engineering management studies prepare students for careers in business and engineering. Students who obtain this type of degree can gain a thorough understanding of best business practices and engineering science, with a focus on product development, manufacturing construction and industrial engineering. Here are a few of the best courses that we have handpicked.
Industrial engineering and management 
Are you looking for a study program to prepare you for a career in industrial engineering and management? If so, then this master of engineering management online course will give you the skills required to integrate into the Industry 4.0 sector. Investigate smart technologies and their applications in construction, assembly lines and global supply chains. Develop project management and design skills and the ability to oversee and orchestrate large industrial engineering projects to prepare for a management role in complex industrial settings. Earn an internationally recognized degree from anywhere in the world.
Mechanical engineering 
Mechanical engineers create everything from small devices such as microwaves to large systems such as automobiles and spacecraft. Mechanical engineers analyze, design, manufacture and maintain mechanical systems using mathematics, physics and material science principles. A wide range of skills is required for this, including the ability to model the mechanics of solids and fluids and the flow of heat and energy.
Mechanical engineering is arguably the broadest and most diverse engineering discipline because these skills are required for virtually everything. As a result, mechanical engineering graduates work in various industries, including defense, biomedical, manufacturing, mining and automotive.
Engineering business management
This course is designed for engineering management students who want to advance and do not require previous technical engineering knowledge. Because this course is entirely online, you can study while continuing to meet your work and personal obligations. You will learn about management practices for engineers, project management, sustainable leadership strategies, organizational change, and the commercialization of new technology through the program's 12 units of coursework and engineering projects. Expert lecturers and industry speakers with real-world experience will guide you systematically through the process of thinking, while incorporating psychological, social, economic and political factors into your decision-making.
Your course will culminate in an engineering project based on your role within your company and designed to draw on real-world engineering business management practice. You can complete the engineering business management online course in just over two years and use your leadership and professional skills to manage engineering business projects, teams and organizations effectively. You will broaden your management skillset, allowing you to advance in engineering, business, operations, supply chain management and project management in your relevant engineering environment or industry.
Construction engineering management 
This course is intended to develop specialists in the management of multidisciplinary construction organizations who can apply theory in practice and work in an international environment. The goal is to improve students' skills and knowledge in areas such as project management, information and communication technology, construction law, supply chain management and procurement, as well as to develop a critical awareness of the issues and challenges in construction engineering management.
Engineering technology
Connect engineering science to applications in business, industry and government. Earn your online Master of Science in Engineering Technology and gain the analytical background and problem-solving  skills needed to succeed in leadership positions or advanced technical expertise in industry and government. You will gain professional expertise in recent advances in the management, development and innovation of technology systems in as little as two years. You will be prepared to take on high-impact roles in applied research, solution development, entrepreneurial ventures or management when you graduate.
Master of Architecture 
Throughout the Master of Architecture program, you will form strong bonds with your instructors through in-person class discussions, office hours and immersions. You will also gain hands-on experience through professional cooperative education opportunities, where you will work with local architects, apply your architectural skills and gain resume experience.
The curriculum prepares you to directly apply your new skills in real-world settings through key course topics such as building systems, urban planning and industrial ecology. Courses are organized around representation, sustainability, history and theory. In addition, you can use your online degree to take the Architect Registration Examination and prepare to become a licensed architect by leveraging the sustainable design expertise you will gain in the program.
Prospective engineering management students should be aware of this program's numerous advantages. However, they should also consider how rigorous the program is and whether they will be able to stay committed to the coursework, as success in such a challenging program requires a lot of dedication and effort.
Positions to move into
As previously stated, once qualified, you can choose from a wide range of exciting and lucrative industries. The following are some of the most popular engineering management graduate jobs.
Engineering project manager 
You will manage specific projects from start to finish, planning and directing all design engineers, technical engineers and drafters. You will also need to evaluate and approve changes that affect the budget and timeline of each project you work on.
There are numerous career opportunities in engineering management and opportunities beyond that. Some engineering management job opportunities may require certifications or licenses, so applicants should ensure that they understand what is expected of them before pursuing specific positions.
Managerial science
This may be the field for you if you want to lead teams of engineers and cross-functional coworkers. Students learn management fundamentals, while also expanding their knowledge in math and science. You can also gain practical skills by joining clubs and taking on leadership roles in academic organizations.
Marketing
This may surprise some students at first. On the other hand, engineering managers are frequently hired by marketing firms or departments. They serve as a link between engineers creating products and product development teams attempting to meet the needs and desires of their target demographics. Mastering engineering concepts, as well as practical business concepts such as clear communication skills, finance, sales and marketing, are required for this role.
Operations manager
Operations managers are advanced positions in the human resources field. An operations manager's primary responsibility is to maximize the productivity, cost-efficiency and quality of a company's various procedures and protocols. In addition, the responsibilities include overseeing departmental budgets, managing inventory materials and developing staff training processes.
Systems analyst 
A systems analyst, also known as a computer systems analyst, evaluates a company's IT infrastructures, such as data storage centers or online networks. In addition, systems analysts design, manage and repair an organization's information technology systems. Responsibilities include researching new technologies to incorporate into the business, creating analysis reports on potential upgrades, and determining ways to improve the productivity of computing procedures or resources.
Technical manager
A technical manager is someone who possesses advanced technical skills as well as adequate managerial abilities. They should be able to perform all necessary company system tasks, such as troubleshooting any technical issues and overseeing the development and implementation of any system through all process steps.
Conclusion
Engineering, like other industries, requires managers who can supervise other engineers and projects, encourage new development, and solve problems within an organization. Engineering managers are in charge of hiring and supervising employees, setting project budgets and goals, leading research and development projects, and ensuring the accuracy of work produced under their supervision. They also collaborate with other departments within and outside their organization to ensure project completion and that best practices are followed. Overall, they must troubleshoot roadblocks, solve problems that prevent projects from being completed, and lead the development of new products and services.
Engineering is expected to snowball, including civil engineering services such as the construction of large buildings, roads and other infrastructure, as well as mechanical engineering, electrical engineering, and engineering consulting to various industries. It is worth noting that as the country's infrastructure ages, it will require repair and expansion, increasing the demand for these services.
Taking on the challenge of becoming a leader, regardless of industry, is not an easy task. As a professional engineer, you must understand what the company wants to see in a managerial candidate and plan your path to management from there. Whatever path you take into management, make sure that you weigh your options and choose the one that best suits your personal and professional development.
The world requires engineers of all types in all sectors and industries. However, the world also requires engineers who can lead, analyze, administrate and manage. As a result, the question of whether engineering management is a good degree is frequently answered with a resounding yes. However, aside from everything else, it is worth noting that an engineering management degree is still a management degree. This means that graduates can apply their knowledge to other fields that require management training.